The unlimited ambitions, adopted by the UAE Government were behind the establishment of National Cables Industry, contributing to power distribution and transmission in the region.
As a leading manufacturer of wires and cables and with a mission of "POWER THE NATION" NCI manufactures cables based on strong technological base, continual improvement and maintains high Quality standards. NCI has devoted itself to development and continues to make steady strides towards a brighter future in U.A.E. and abroad by supplying Quality products in time.
NCI specializes in manufacturing of electrical wires, low medium and high voltage cables, fire retardant cables, low smoke and halogen free cables and overhead conductors for power transmission and distribution networks in compliance with British and other International Standards such as IEC, DIN, ASTM, ICEA, AEIC, AS, NZS, and NFC etc
Quality: Effective Quality Management System is maintained at NCI as a key to long term operational reliability. Stringent quality control measures are implemented during procurement, during all stages of production and during final testing. Under professional control, NCI has demonstrated competence by obtaining Quality Management System ISO-9001:2008 from BASEC and Conformity certificate from BASEC the world renowned leading cable approval authority for "Enhanced Quality Management System for Product Related Functions".
BASEC is a government-nominated independent non-profit making organization and a leader in product certification for more than 30 years and seeks to ensure National, European and International Manufacturers and their products in cable industry reach relevant standard.
Click Here To View NCI LV Cables Full Catalogue Click Here To View NCI Fire Proof Cable Catalogue
NCI, understands customers needs and requirements that apply to their specific projects, offering an unparallel after-sales services. Our professional dedicated staff is always ready to promptly respond to clients, wherever they are.
EDD - LV CABLES GENERAL APPROVAL 2019-2024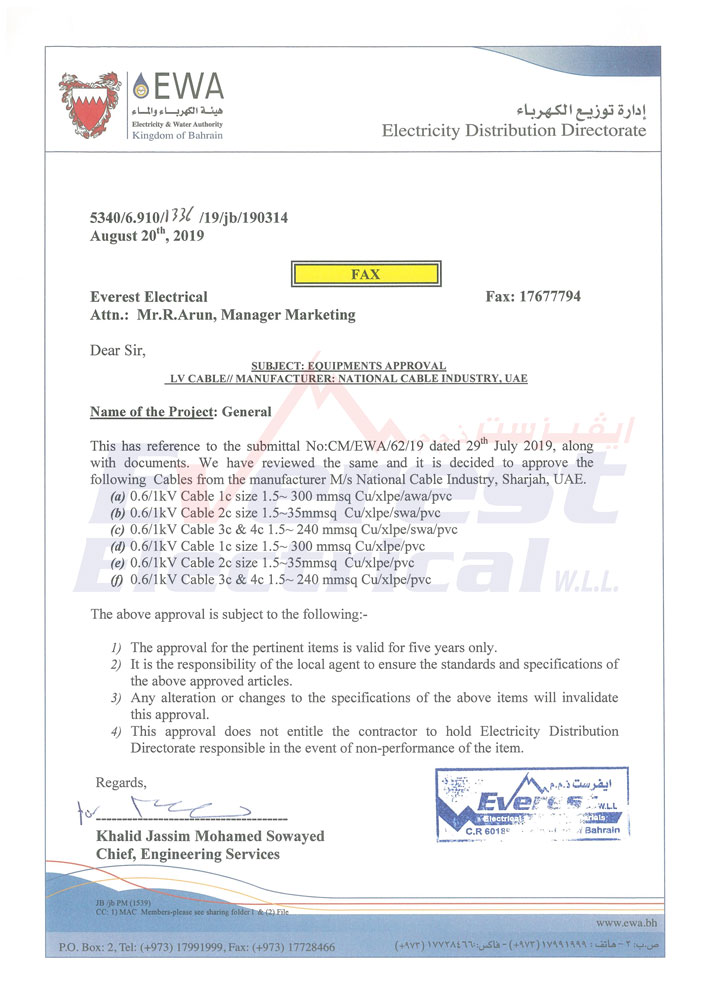 EDD - SINGLE CORE WIRES 2016-2021 APPROVAL